Recently, there has been a significant increase in the number of golfers choosing to walk over riding in a cart. We've been a big fan of this trend for years, as walking is said to be good for heart health and weight loss, among several other health benefits. As a staff, we put together a list of our favorite golf products for walking the course.
Get a push cart.
The stigma for golfers who use a push cart isn't what it used to be. After Dr. Neil Wolkodoff, medical director of the Colorado Center for Health and Sports Science conducted a study on the physical benefits of using a push cart, golfers began seeing push carts as a competitive advantage. He is quoted in this Golf Digest article saying "people who push a cart have a lot fewer [health] issues, and a lot less potential for issues. The golf swing is tough on the back no matter how you look at it. If you can use a push cart and keep one more stress away from the back that's a great thing." As for what type of push cart to get, we recommend Clicgear. Customize your color and swag all you want, this push cart is lightweight and easy to travel with from course to course.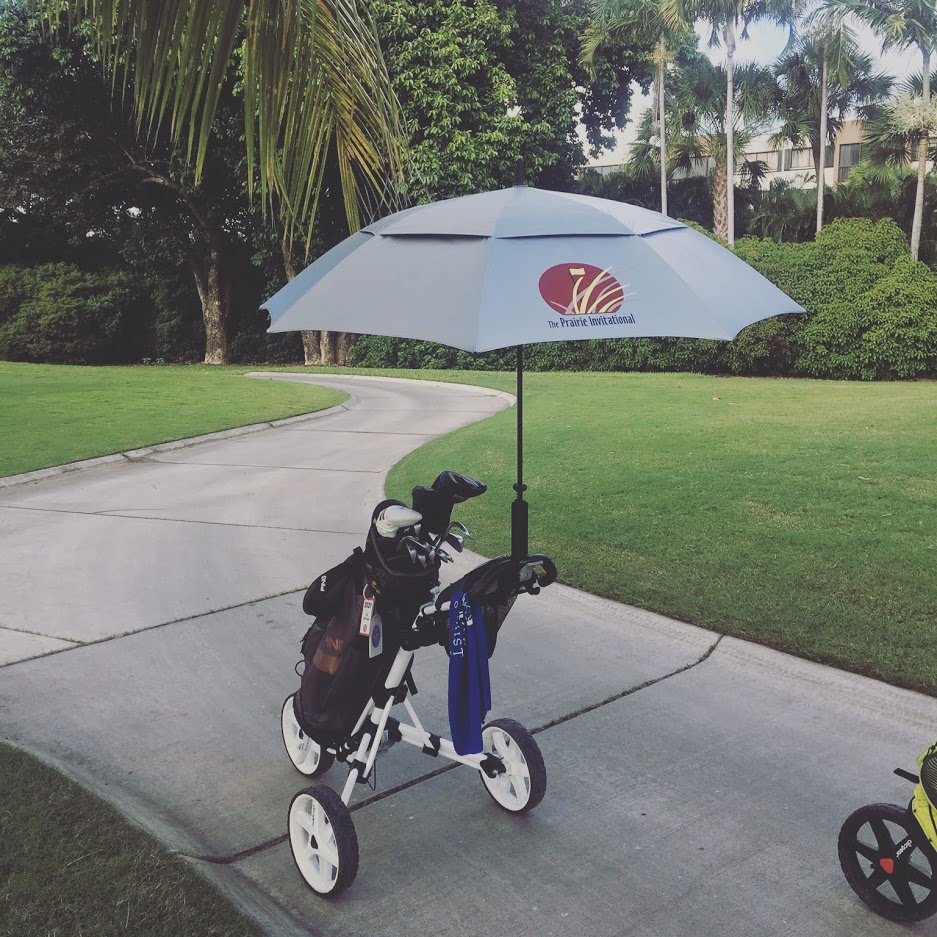 Put your walking shoes on.
Our staff raves about the performance of FootJoy's MyJoy Pro SL (Women's Link). A simple Google search will prove this model has been named The #1 Shoe in Golf. Made with Fined Tuned Foam, this shoe is perfect for walking the course.
Sun protection is key.
When you are walking, you don't have the added shade protection that you might find in a cart. Here are some of our favorite products for keeping your skin out of the sun.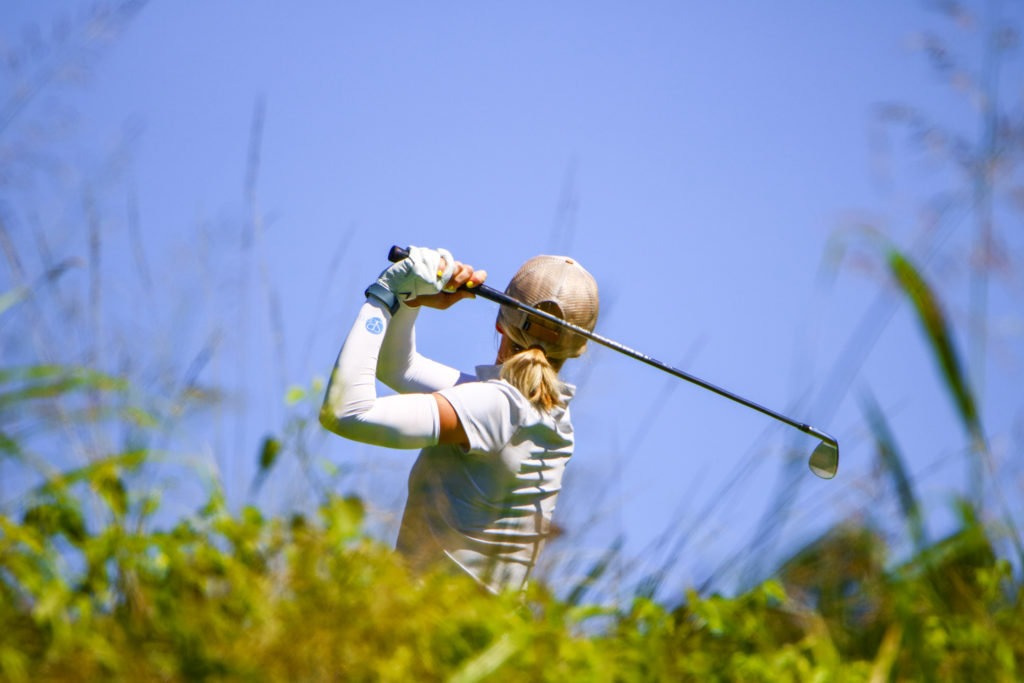 SParms Sun Sleeves – The market has really grown for golfers wearing sun-protective clothing. SParms has been very popular on the LPGA Tour and the company has styles for both men and women. Sun sleeves are designed to protect your skin from harmful UVA and UVB rays. The sun sleeves from SParms are accredited with UPF50+ by ARPANSA, as they are an Australian company. Contrary to some belief, sun sleeves create a cooling effect on the skin when worn.
Alba Botanica Maximum Sunscreen– This Reef Safe sunscreen is easy to apply and is made without harmful ingredients. Proper use is important in order for sunscreen to work as intended. Read more about sunscreen safety here.
Prizm Golf from Oakley – These sunglasses were made for golfers. Oakley claims the Prizm model is engineered to help you spot transitions between the fairway, fringe and rough, and gauging distance with accuracy to help you read the course better.
It's all in the bag.
Whether you are into an athletic style or traditional, these bag options have you covered.
PING – A classic athletic golf bag, made to be carried. The Hoofer Lite model weighs in a whopping five pounds, making it the perfect carry bag.

Nelson Hill – Each Nelson Hill bag is uniquely handcrafted in limited quantities in the heart of Kansas City's Crossroads Arts District. Made from heavy waxed canvas and thick, luxurious Horween leather, this bag is made for style and function.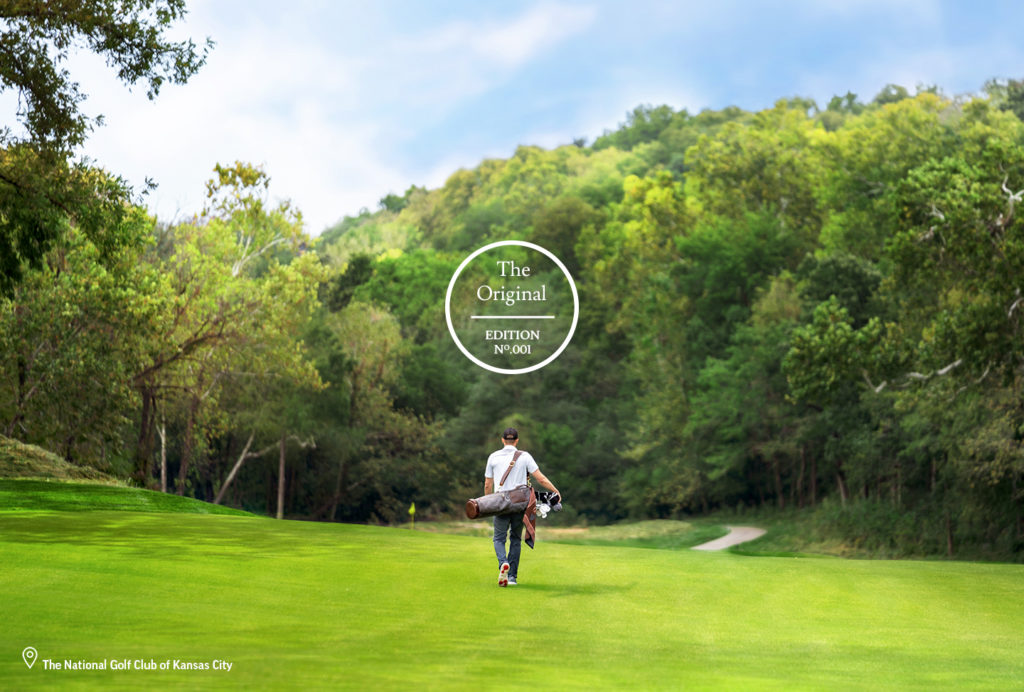 No more rangefinders.
Our Executive Director, Doug Habel, is a big fan of the Golfshot App – Whether you are using an Apple Watch or another smart device, this app will help you play your best on nearly any course. Some features include GPS distances, scoring & statistics, Golfscape AR, GHIN Handicap Index, and voice assistant.
Whether you have been walking for years or just started last week, we hope you find these suggestions helpful! We're always on the hunt for the next great golf gadget. What are some of your favorite golf products you can't live without?