Martha Linscott is no stranger to USGA Championships, having played in her first event in 1990, but this year she added three championships to her resume, making her the first woman in Kansas golf history to compete in three USGA Championships in the same year.
"When you get to the USGA Championships, they make you feel like you've done something really worthy," Linscott said, "it's just another reassuring fact that you've done something big that you've wanted to do and you are rewarded for your efforts."
Linscott is certainly a player worth rewarding. In 2020, she won the Kansas Women's Senior Amateur and has earned multiple Low Senior awards, including the 2022 Kansas Women's Amateur and 2022 Prairie Invitational.
Linscott is in her second year as the Head Men's and Women's Golf Coach at Park University, she serves on the Central Links Golf Board of Directors and is a member of the Prairie Invitational Committee. "Martha is one of the most consistently good players in our area and a great ambassador for the game. Not only does she compete and represent Kansas in a positive way on the national stage, but she also works as a mentor to encourage young people to compete as well," said Central Links Golf Executive Director, Doug Habel.
At 52 years old, Linscott is fairly new to the scene of senior competitions. She spent the years before turning 50 competing with younger golfers to qualify for events like the US Women's Amateur and US Women's Mid-Amateur. Where previously she wasn't eligible to compete in the Women's Senior Amateur and Women's Senior Open, Linscott says "The best part is that when you turn 50 you think that your career might be coming to an end, but it gets a lot better because now you can qualify for two more tournaments!"
She enjoys competing because "It's all me, either I'm going to play well or I'm not. It's an individual thing, and I like that. If I've worked really hard, it pays off, and if I have slacked off in an area, it's going to show up," Linscott said. One key to her success through the years has been learning how to control her mind to think positively throughout the round. She comments that it's something she is also trying to teach her team at Park University, "You've got to be able to control your body and mind and I think that's fascinating. You have to have enough confidence in your ability."
Martha's 2022 Resume
JUNE
Qualifies for US Women's Senior Amateur
JULY
Kansas Women's Amateur Low Senior
Prairie Invitational Low Senior
Qualifies for US Women's Senior Open
US Women's Senior Amateur – Anchorage Golf Course, Alaska
AUGUST
Qualifies for US Women's Mid-Amateur
US Women's Senior Open – NCR Country Club, Ohio
SEPTEMBER
US Women's Mid-Amateur – Fiddlesticks Country Club, Florida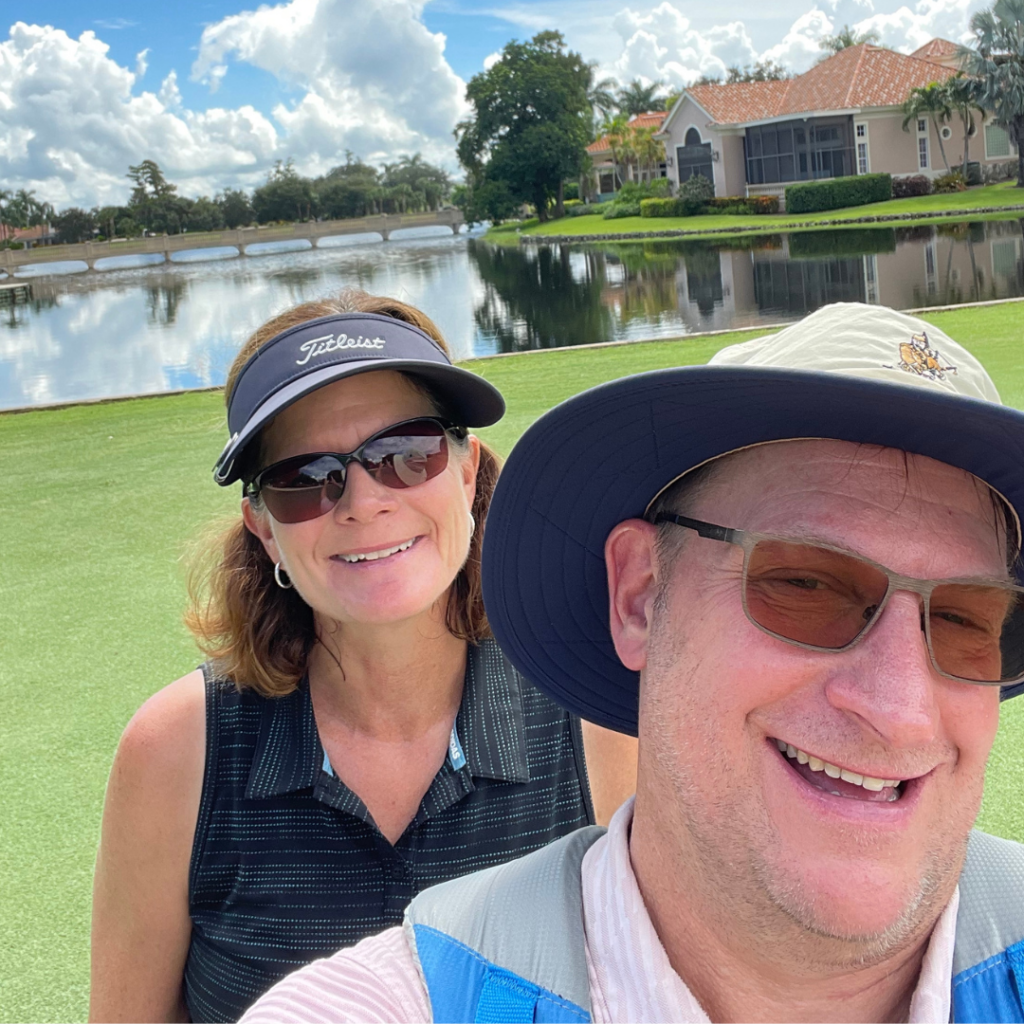 Linscott's husband, Randy, travels to the USGA Championships with her as her caddie. "You need somebody in your corner reassuring you that you are doing a great job," Linscott commented. It's something they enjoy doing together, "he's my number one supporter," Linscott said through tears, "he's always rooting for me, So that's why I get emotional, he's really encouraged me and supported my effort. He's been there telling me that I'm a good player."
There's more to come from Linscott who hopes to win locally in addition to earning Low Senior awards. "I'm sure some people are saying 'why does she keep doing this?', but it's fun. I want to see how far I can take it," Linscott said, "Not everyone finds something that they're good at or passionate about, and then excel at it."
Linscott's USGA Championship Appearances
US Women's Amateur Public Links – 1990, 1996
US Women's Mid-Amateur – 1999, 2010, 2011, 2012, 2013, 2016, 2018, 2019, 2022
USGA Women's State Team Championship – 2013, 2015, 2017
US Senior Women's Amateur – 2021, 2022
US Senior Women's Open – 2022
---
Linscott is the first woman in the state to appear at three USGA events in the same year. According to archives, the only other golfer to make three appearances was Kansas Golf Hall of Fame Member, Bryan Norton who played in US Senior Open, US Amateur, and US Senior Amateur in 2015.