The Kansas Amateur Match Play Championship took place July 18-23rd at Falcon Lakes Golf Club. The Championship began with a 36-hole stroke play qualifying round to make it into the round of 64 matches.
Zach Sokolosky found himself at the top of the leaderboard after round two, shooting an impressive 14 under par, 68-62, earning him the number one seed going into match play. "I was able to get my putter very hot which was a big confidence booster going into match play," Sokolosky said.
In the round of 64 matches, Sokolosky defeated James Hill 3&2. In his second match, he won one up after 19 holes against Colby Unruh. During the round of 16 matches, Sokolosky defeated 2022 Kansas Amateur Champion, Asher Whitaker, 4&3. In the Quarterfinals he won 2&1 over Drew Carlson. In the Semifinals he defeated Chance Rinkol 1 up after 18 holes.
Sokolosky played against Michael Winslow, the 11 seed during the final match. Both Sokolosky and Winslow play on the Wichita State Men's Golf Team. Winslow shot 72-66 (-6) during the qualifying rounds earlier in the week. The 36-hole final match was back and forth between Sokolosky and Winslow. After the first 18 holes, Sokolosky was 1 up. Winslow fought to tie the match throughout the second 18, however, Sokolosky birdied the 16th hole to push the match to 1 up. After ties on 17 and 18, Sokolosky won 1 up.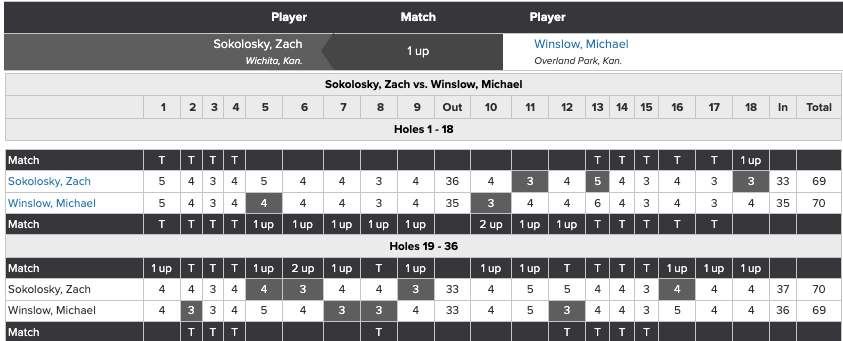 "This win means the world to me because I thought I had a chance to win the last two, maybe more. It was a long time coming and I was feeling very good with my game. I'm extremely happy to get it done this week," Sokolosky said.
Facts:
Zach Sokolosky's 36-hole stroke play total of 130 tied the Kansas Amateur record by Jesse Schulte at the 2002 Kansas Amateur at Tallgrass.
Zach Sokolosky's second-round stroke play score of 62 broke the Kansas Amateur record for lowest stroke play round that was previously held by Jesse Schulte's 64 during the first round of the 2002 Kansas Amateur.
That 62 by Sokolosky also tied the Falcon Lakes course record that was shot by Clay Devers about 10 years ago.
This isn't a record, but just an observation. Zach is the first stroke play medalist since Sam Stevens in 2015 to go on to win the tournament after being medalist.