Granite Garage Floors to Sponsor Kansas City Championships
Our Kansas City Championships will have a new face this year, Granite Garage Floors, a Prairie Village-based company will sponsor the six Kansas City-based events: KC Match Play, KC Women's Match Play, KC Junior Match Play, KC Amateur, KC Junior, and KC Four-Ball.
Owner of Granite Garage Floors, Greg Slicker, has been a long-time supporter of Central Links Golf and formerly the Kansas City Golf Association. His kids have played in many junior golf tournaments, and he is a member of Indian Hills Country Club in Mission Hills, Kansas.
Get to Know Greg Slicker
Tell us about yourself
I grew up in Nebraska and my Dad introduced me to golf at a young age. I played golf throughout high school and was fortunate to play golf in college (West Texas State & Nebraska) as well. We were members at Meadowbrook CC for years until it closed and a few years ago, we joined Indian Hills CC
Why did you want to partner with CLG?
CLG is a great local organization that supports our community and aligns well with our company's values and goals. CLG has provided a ton of opportunities for both of our kids (Ben-17, Ella-14) during the past 10-12 years, and being able to support CLG via our GGF sponsorship is a WIN for both our family and our small business.
What is Granite Garage Floors?
Granite Garage Floors is an industrial epoxy and polymer floor coatings business. We specialize primarily in coating & restoring residential garage floors, but also coat concrete in residential basements and commercial environments as well. We started our business in 2008 in KC and now have 17 locations nationwide. We pride ourselves on being a locally-owned, Prairie Village-based business that prides itself on integrity, impeccable customer service, and installing a quality product that is an exceptional value for KC homeowners.
What is it like running a small business?
Golf and running a small business are similar in that they are both extremely difficult, lonely at times, and come with a lot of ups & downs. However-the process of learning to overcome the challenges of both to see the fruits of your labors is extremely satisfying and not comparable to many other things in life.
What are your top golf experiences?
My personal experiences in golf have been wonderful – still can't explain how in awe I was the first time I walked onto Augusta to see a Masters practice round in the late 90's or the pure feeling of playing a great course like Bandon Dunes. However most of the top golf experiences my wife, Erin, and I have had have been with our kids. Being a part of helping them learn the game, caddying for them, seeing them compete at a high level, and now having them both beat me like a drum has been so fulfilling.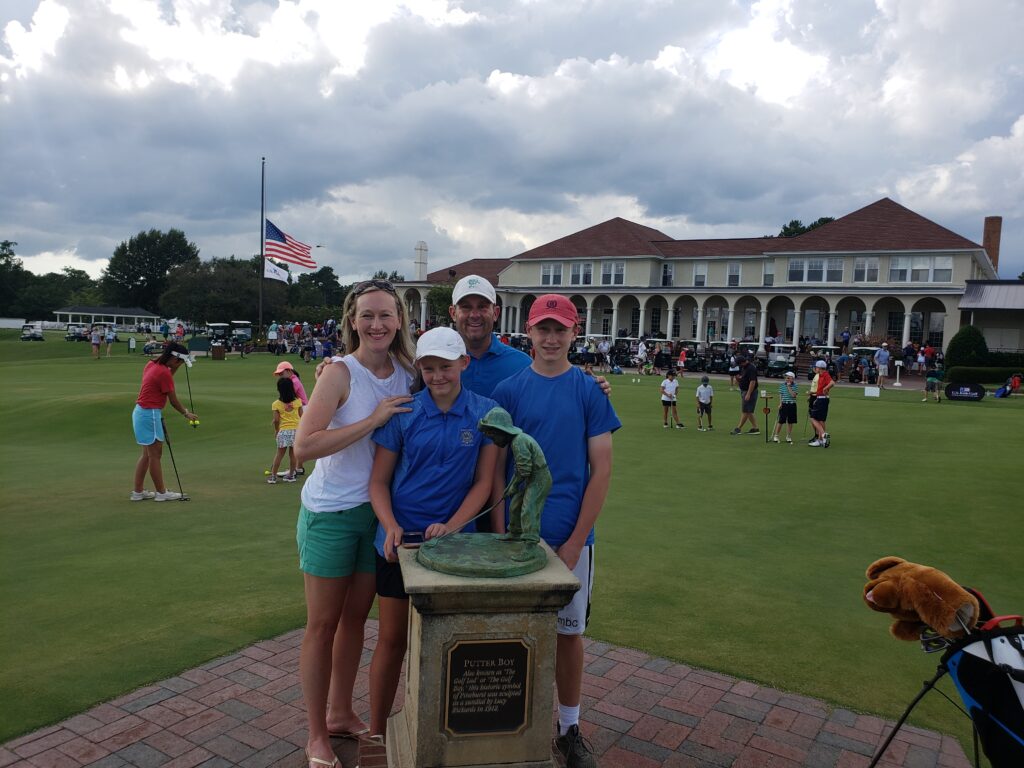 You can learn more about Granite Garage Floors here >>
Follow Granite Garage floors on Instagram here >>
View Tournament Schedules:
Men's Championships >>
Women's Championships >>
Junior Championships >>
Learn more about CLG sponsor opportunities here >>