After two exciting days of golf at Swope Memorial Golf Course, The Kansas City Junior Championship ended with impressive scores from our juniors. In the Boys Division, Davis Cooper held the overnight lead and did not look back, firing a final round 70 en route to finishing 8-under for 36 holes and winning the Boys Division by 5 shots. When asked about his performance, Davis discussed his hot start in the first round and his solid play across the entire Championship: "I played well in basically every part of the game this week. Yesterday, I started hot and made some putts and carried that over into today where I was making more mid-range putts… it made it feel pretty easy for the most part."
In a tie for second place in the Boys Division, Chance Rinkol and Ryan Lee had a solid two-day total of 3-under par. Chance fired a final round 70 and Ryan shot a final round 71.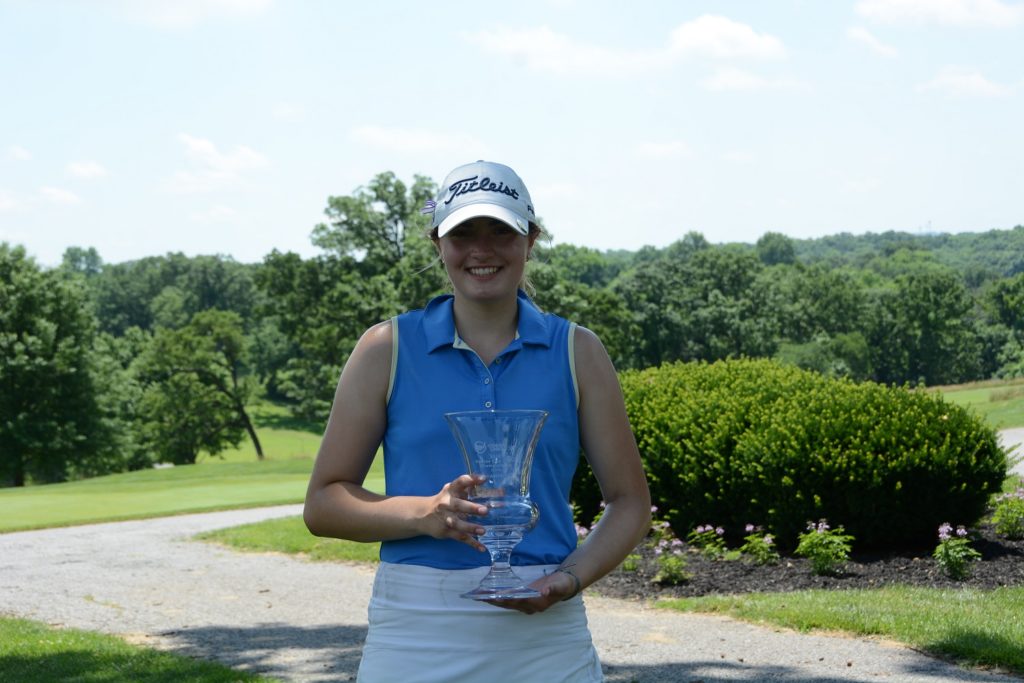 In the Girls Division, Julia Misemer put on quite the show and successfully defended her title, as she won this event in 2019 and is now a back-to-back champion with winning the 2020 Championship. She also held an overnight lead and increased it as the day went on. Julia shot a final round 69, which put her at 5-under par for the Championship, a whole 13 shots ahead of second place. When highlighting key points in her tournament, she went back to her mindset as the first round began: "I three-putted the first two holes in the first round, so I was kind of down but then thought 'let's just come back and have a good round' and then I ended up coming back… my putting kind of saved me in the end."
In a tie for second place, Faith Hedges and Audrey Rischer had a two-day total of 8-over par, where they both improved on their first-round scores, shooting 74 and 75 in the final round, respectively.
To view final results from the 2020 Kansas City Junior Championship, click here: https://centrallinksgolf.org/competitions/2020-junior-golf-schedule/kc-junior-championship/
---
Day One Recap
On a warm summer day at Swope Memorial Golf Course, day 1 of the Kansas City Junior Championship provided some great scores from the boys and girls competing. The highlights from round one in the Boys division include a 6-under round of 66 fired by Davis Cooper that began with 4 birdies on his first 4 holes. Davis leads by 3 shots heading into round 2 over Ian McCrary, who fired a 3-under par round of 69 that started strong with a front-nine score of 32. In third, just behind Ian McCrary is Ryan Lee, who also had a fast start to his round after firing a front-nine score of 31 en route to a 2-under par round of 70.
In the Girls division, the round of the day went to Julia Misemer, who carded a 2-under round of 70 that included 6 birdies. Julia leads by 6 shots heading into round 2 over Maggie King, who shot a 4-over round of 76 that included 3 birdies. In third, just behind Maggie King is Audrey Rischer, who shot a 5-over round of 77.
Tomorrow is the final round of the Kansas City Junior Championship at Swope Memorial Golf Course, where we expect more great golf to come.
You can find pairings and results for the Kansas City Junior Championship here: https://centrallinksgolf.org/competitions/2020-junior-golf-schedule/kc-junior-championship/
Pictures from KC Junior Championship: https://kansasgolf.zenfolio.com/p643024375