A unique, new golf competition in Kansas City and Kansas will aim to benefit Youth on Course.
The Amateur Open aims to make every round of golf exciting and rewarding through a summer-long competition. Golfers can simply post their scores from their rounds to get on a region-wide Leaderboard and win gift certificates to local golf establishments.
How it works:
Men and women 21+ can Register in TheAmateurOpen of KC club for $50 (if you already have a handicap, you can still register on the platform by paying $30); Players can use special promo code WEL20 for this inaugural season and save $20.
Pick a partner and play on any course and set of tees; golfers can compete as a team or individual or both ($5 for each competition). A portion of this fee will directly benefit Youth on Course in Kansas City.
Upload the picture of your completed scorecard to get on Weekly and Season leaderboards; don't forget to post your scores on to your GHIN Handicap.
Play a minimum of 8 rounds between June 30 – September 6 to become eligible for season points race prizes.
At the end of the season, there will also be an 18-hole Amateur Open Championship.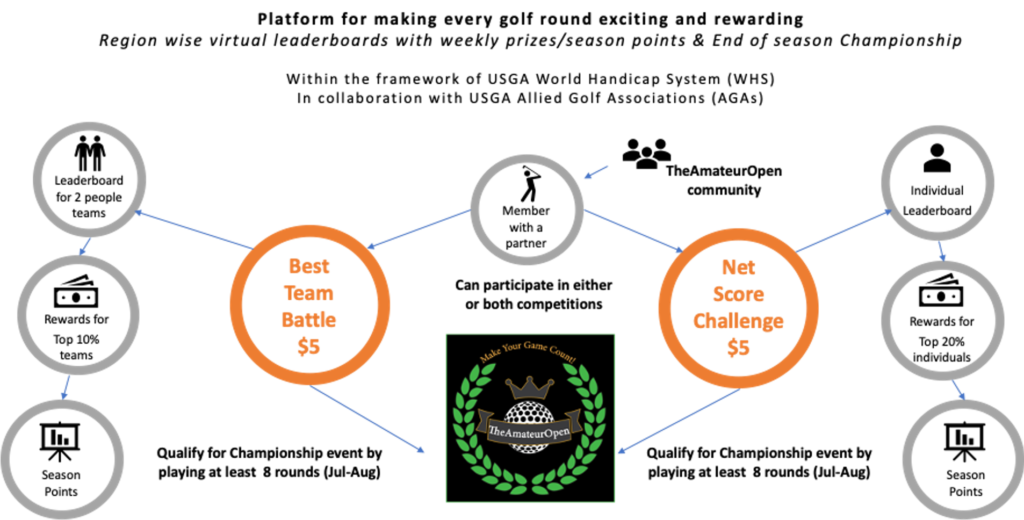 The idea:
The Amateur Open is made up of working professionals who are passionate about the game of golf. Founder, Som Chilukuri says "We are really passionate about the game especially since it makes competition across skill levels possible, more so with the World Handicap System. We realized that there is no real platform for golfers to connect with a larger picture across a region or season. Leagues are typically limited to a course and a group. We thought it would be really cool to make each round count for every golfer and in relation to all the golfers in the area and that's how this idea came up."
The club emphasizes three main themes:
Celebrate the "compete with yourself" aspect of the game
Create winning possibilities across skill levels
Foster vibrant community of recreational, yet competitive golfers
Chilukuri says it best "golf to us is an avenue to unify people in a great competitive setting with no barriers at all on skill levels, age, and gender or whatsoever. And with The Amateur Open, we are able to do that without needing to physically come together at a single event or course"
Support for The Amateur Open:
Central Links Golf supports The Amateur Open in its values and mission to create competitive golf opportunities while bringing the community together. CLG has consulted with The Amateur Open to provide League Management best practices, making it a certified Central Links Golf League.
The Amateur Open is also supported by an Advisory Panel from Incub8 Startup Studios, a Silicon Valley-based technology incubation company. www.incub8.vc
Youth on Course:
"We are excited that 10% of each round's proceeds will directly benefit Youth on Course," says Doug Habel, Executive Director of Central Links Golf. Youth on Course allows junior golfers in our region to play golf at participating facilities for only $5 (or less) per round. This program has allowed junior golfers in our community access to playing golf when they otherwise wouldn't be able to play. Learn more at youthoncourse.org.
Interested in learning more about The Amateur Open?
Visit: theamateuropen.com to register.