The 22nd Mid-America Junior Cup took place in Lake St. Louis at Lake Forest Country Club this past weekend. A Ryder-Cup style format event in which the top juniors from Kansas City and St. Louis battle it out in match play to determine who wins the Cup.
KC has had the Cup since 2013 and was hoping to keep the Cup heading in to the weekend against a strong St. Louis team. In order to tie and retain the Cup, KC needed 8 of the 16 available points. St. Louis needed 8.5 points to win and keep the Cup in St. Louis.
Saturday consisted of morning Foursomes and afternoon Four-Ball matches. Foursomes (alternate shot) is typically the toughest session of the weekend with boys and girls teaming up for co-ed alternate shot. Team KC played well and took 2.5 points with two victories of Misemer/McCrary and McVey/Rinkol and a tie from Currier/Tarvin.
Heading in to Four-Ball, KC had a 2.5 to 1.5 lead. Four-Ball didn't have the same success for KC, with St. Louis taking 3 out of the 4 points. KC's lone victory came from Currier/McVey with a 2 and 1 victory. St. Louis held a 4.5 to 3.5 point lead heading in to Singles on Sunday.
Sunday singles is always exciting and this was no different. KC needed to take 4.5 points from singles in order to tie and keep the Cup in Kansas City. The 8 year streak was on the line and St. Louis proved to be quite the opponent.
KC got off to a quick start with two wins from Myles Tarvin (3 & 1) and Hillary Currier (6 & 5). KC and STL would split with a tie from Chance Rinkol and Bubba Chapman to add a half a point to each team, bringing the team totals to 6 to 5 in KC's favor. Drew Nienhaus of STL followed with a win of her own over Libby Green to bring the teams' total to 6 to 6. Julia Misemer defeated Brooke Biermann 4 & 3 to give KC another point and within one point to retain the Cup.
Maya McVey of KC would fall in a close and hard fought match to STL's Rylie Andrews. KC and STL were tied 7 to 7 at this point with only two singles matches left to decide who would take the trophy. Ryan Walsh of STL defeated Michael Winslow 4 & 2 and KC's only hope would come down to Ian McCrary's singles match. Without a win from McCrary, KC would snap it's streak.
Ian McCrary was 1 down heading in to 17th tee against Blake Skornia and needed to win the final two holes to win his match. After a tee shot that sat on the edge of a penalty area, McCrary was forced to pitch out in to the fairway. Skornia with a great drive and approach shot was on the green in two, facing a lengthy birdie putt. McCrary hit his approach shot on the green to about 15 feet for par. Skornia's birdie putt ran past the hole and he faced a tough par putt coming back. McCrary, with a must-make par putt, sank the 15 footer to put pressure on Skornia. Skornia's par putt would slide just by and we were heading to 18th tee.
Both players hit their tee shots to the right side of the fairway, just in the rough on a dog-leg left, par-5. McCrary's second shot was hindered some by tree branches but he was able to hit an amazing punch shot that left him about 75 yards out. Ian followed with an even better approach shot in to the green that left about 5 feet for birdie. Skornia was putting for birdie from about 20 feet. His birdie putt would run past the hole on a tricky sloped 18th green, leaving some work left for par. Blake's par putt missed the hole and McCrary just needed to two putt for the win. McCrary would do just that and par the hole to give KC the tie and bring the Cup back home!
It was an exciting competition and so proud of all the competitors and how hard they fought. Team KC battled and with a great team effort and Ian fighting until the last shot was able to retain the Cup for another year. We look forward to competing against St. Louis again next year, this time in Kansas City.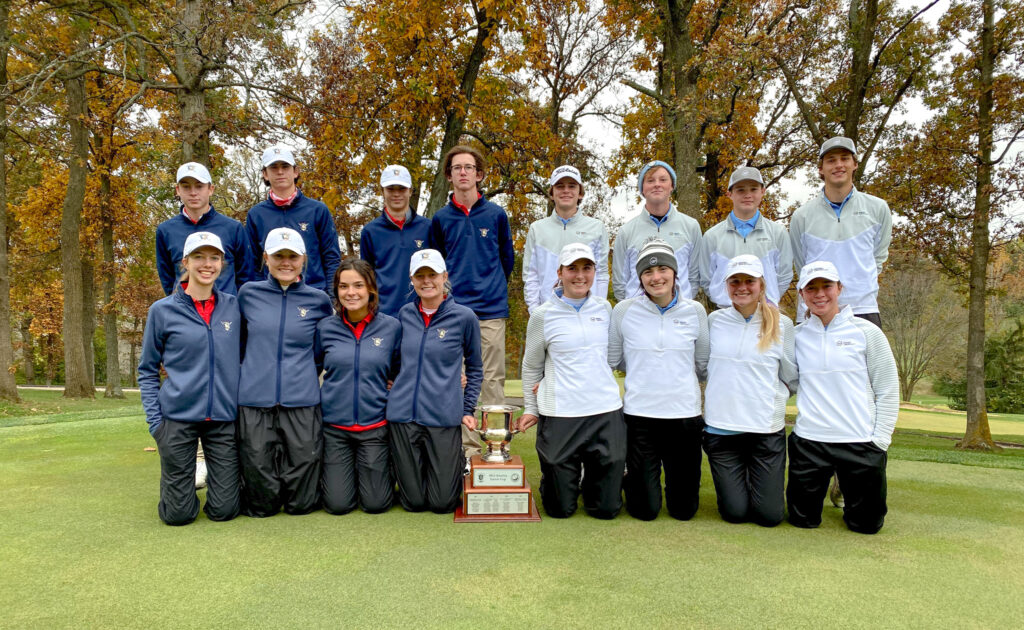 2020 Roster:
Michael Winslow – Overland Park, KS
Ian McCrary – Overland Park, KS
Julia Misemer – Overland Park, KS
Libby Green – Shawnee, KS
Myles Tarvin – Olathe, KS
Chance Rinkol – Leawood, KS
Maya McVey – Blue Springs, MO
Hillary Currier – Olathe, KS