Smoky Hill Country Club
Course Location: Hays, Kansas
Travel Time >> Kansas City: 4 hours, Wichita: 2 hours, 40 minutes, Garden City: 2 hours, 20 minutes
Course Rating: Men: Black 70.6/126 | Women: Gold 70.3/129
Par: Men: 71 | Women: 72
General Manager: Kirby Garrison
Golf Professional: Weston Coss
Superintendent: Justin Vanek
Course Website: https://www.smokyhillcc.com/
Some of the best golf in Kansas can be played on your way through the state. Many golfers traveling west will take Interstate 70 to get there, but what they might not realize is that there are many golf courses worth playing off the highway. Golfers can break up their trip with a stop at Smoky Hill Country Club in Hays.
About the Course
Smoky Hill Country Club presents an 18-hole golf course with over 370 active golfing and social members. Smoky Hill offers a very challenging tree-lined course with several bodies of water that golfers need to negotiate their shots over.
Hole 13 is arguably the most challenging par 5 in the western half of the state; the distance totals 531 yards. Golfers will need to hit a nice tee shot in order to have a good look at carrying the water for their next shot. With an elevated green this hole is very tough to make a birdie.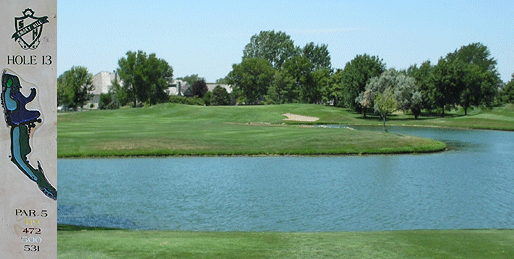 With the progressive thinking members who belong to the club, Smoky Hill is constantly looking for ways to improve their experience from the dining room, swimming pool amenities, and golf course improvements.
Along with their active membership, Smoky Hill has recently hosted the 2021 Kansas Junior Amateur and the 2020 Tee Fore Two Championship. CLG enjoys hosting events at Smoky Hill because of the high-quality venue and vibrant community.
Plan your visit
Golfers not only have the Country Club to enjoy while they are in town but there are also many shops and restaurants in the historic district of downtown Hays. Favorite restaurants include Gella's Diner and Lb. Brewing Co. and Breathe Coffeehouse. Other notable activities include a visit to Fort Hays State Historic Site and the Sternberg Museum of Natural History.
Do you have questions or need more information? Visit: https://www.visithays.com/