Two golfers made holes-in-one on the 17th hole during Thursday's Falcon Wealth Advisors Tour event at Falcon Lakes, winning them both one-year Toyota car leases.
According to the PGA, the odds of making a hole-in-one on the same course is once in every 3,500 rounds. The last time the Falcon Wealth Advisors Tour had a hole-in-one was nearly eight years ago. So when Jake Falcon owner of Falcon Wealth Advisors said he wanted to give away a one-year Toyota lease to golfers who made a hole-in-one on Tour this year, we didn't think it would happen, and we certainly didn't think it would happen TWICE in the same day.
Falcon remarked, "when Todd told us that there had not been a hole-in-one on the tour in the last eight years we found that hard to believe, I guess it's been far overdue."
In order to win a car on tour, the golfers must make a hole-in-one on a predetermined hole in each event. Thursday's hole was #17, golfers must carry their tee shot over a creek with bunkers guarding the left side of the green and sloping off the right side of the green, the 17th green is deep and narrow, forcing golfers to choose the right club.
The first hole-in-one of the day was carded by Pete Robbins. Playing in the Super Senior Division, Pete had a 155-yard shot and used a 6-iron from a new set of clubs he played with for the first time during his round on Thursday. Robbins is headed to the Kansas Senior Amateur next week. When asked if he plans to continue using the new clubs he replied "yeah, I think I'll keep them in the bag".
The second hole-in-one was made by Brian Schmidt, who played in the Players Division. Schmidt's shot was from 178 yards and he used a 5 iron, making this his first career hole-in-one. "I couldn't have hit it any better," Schmidt noted about the shot "This is my first year playing in the FWA Tour and I couldn't have picked a better way to make a hole-in-one."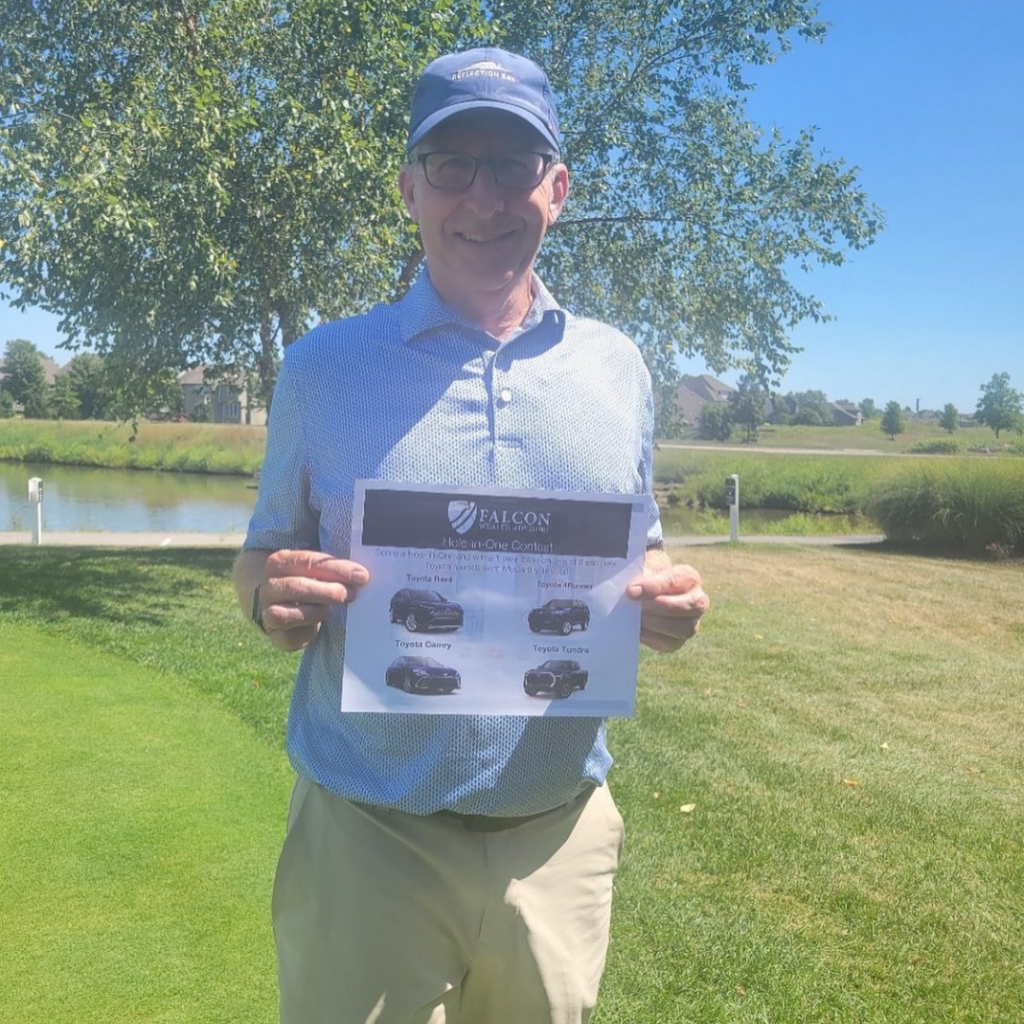 Falcon has been a member of the FWA Tour for many years, when the tour was previously known as the Stateline Amateur Tour.