Story by Kim Richey (retired Kansas Golf Association Executive Director)
It has been my honor to represent Kansas at over 30 USGA championships since 1995 as a member of the rules committee. Whether it is a US Open or a national amateur championship, the USGA always goes the extra distance to make the event memorable for the players and historical in the world of golf. The Inaugural US Adaptive Open Championship recently conducted at Pinehurst #6 was, according to one USGA executive, "one of the best things the USGA has ever done!"
Having been delayed two years by a pandemic, the launch of this Open championship for golfers within 8 classifications of disability assembled an inspirational field of 96 golfers from around the world who played 54 holes to determine an overall champion for both men and women and the top male and female player in each of the categories. One of those golfers was Greg Hollingsworth from Peck, Kansas.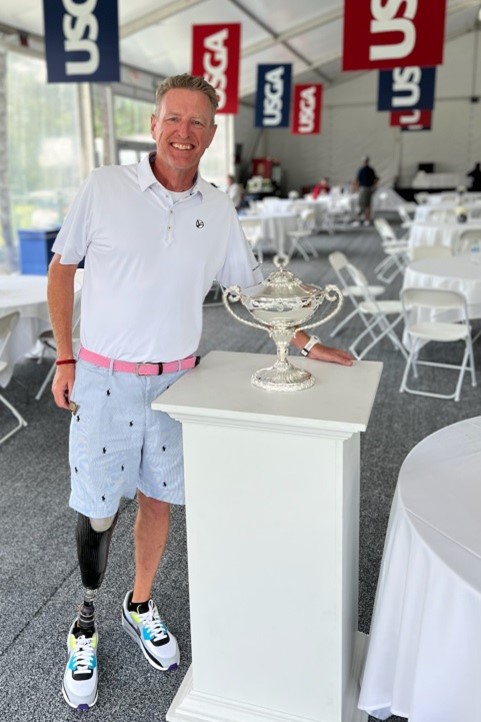 Hollingsworth, age 53, competed in the leg impairment category. His right leg was amputated below the knee in 2019. This was only his fifth competition since his amputation and for it to have been a "US Open experience" was truly special for the self-employed electricity safety consultant.
While Greg admits that he did not play as well as he would have liked, he can't be faulted for it. For the first two rounds, he was paired with a young professional from Korea that played in the Intellectual Impairment category. His name was Simon Lee and the following he had of Korean media, ESPN and other media would make any golfer nervous. Turns out, Lee lead the event wire-to-wire shooting under par, and became the eventual overall champion surviving a 2-hole aggregate playoff on the final day.
After the golfing experience of a lifetime, Hollingsworth commented that "my score and results were just a piece of the week for me. I received so many texts, emails, messages on social media, and phone calls encouraging me and letting me know that my play and play of all participants was inspiring and helping people to know they can do hard things. I have to remember that sometimes it's not all about the golf!"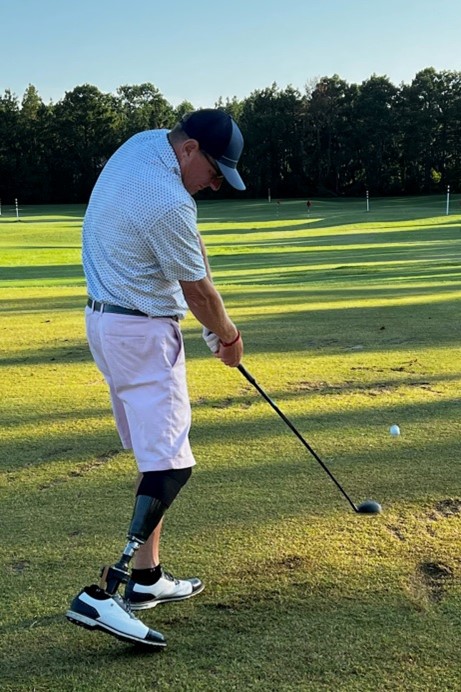 Hollingsworth reports that he has two more adaptive golf competitions on his schedule for this year and he is entered in the Kansas Senior Amateur Championship to be played in August at Terradyne Country Club in Andover, Kansas.
For me personally, the US Adaptive Open had a special significance. I became a member of this "community" myself in 2017 when a life-saving above left knee amputation cured me of a sarcoma cancer. When the USGA announced the formation of a feasibility study to create a championship for golfers with disabilities, I was quick to raise my hand. The USGA staff did all of the hard work to get this new championship off to a successful start, but I was happy to provide a few ideas on the subject.
If you did not see or read any of the coverage of this amazing event, a quick Google search of "US Adaptive Open Championship" will lead you to some outstanding video of these remarkable golfers.
Here are some of the players that I was fortunate to meet:
Amy Brockerstette, from Phoenix, Arizona. This engaging young woman became our Gary Woodland's new best friend at the 2019 Waste Management Open PGA Tour stop when during a practice round with Gary, she single-handedly parred the 16th "stadium hole" in front of the large crowd. When Gary asked Amy if she would like him to extract her tee shot from the greenside bunker, her response was simply "I've got this"! Gary claims her attitude and spirit inspired him to go on to win the 2019 US Open at Pebble Beach. While meeting Amy and her parents and taking a few photos together, Amy was busy texting the photo to Gary! Turns out anyone that knows Gary is Amy's friend too!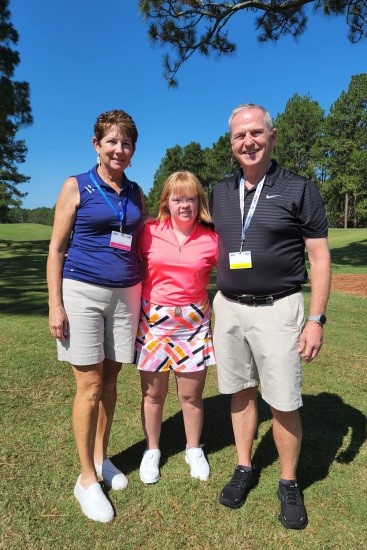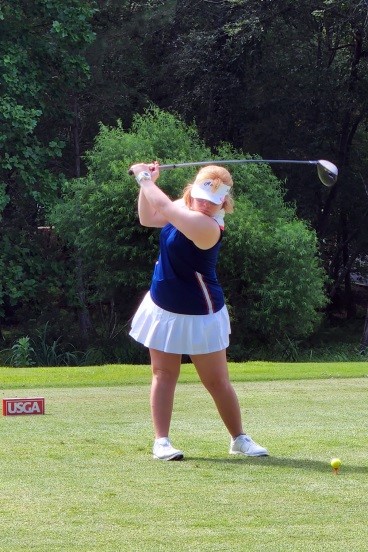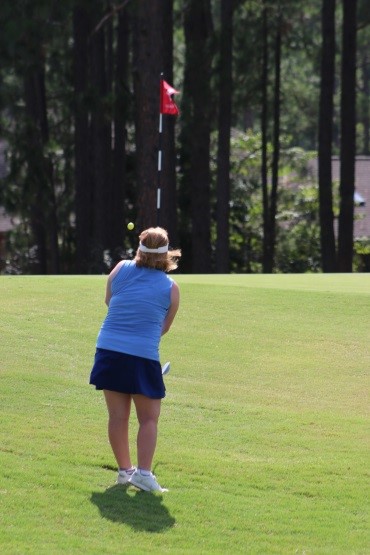 Chad Pfiefer from Boise, Idaho. Chad led the way for golfers with leg impairments. The Army vet has managed to develop a very strong and solid golf game. He played his way into the final group for the last day and I was honored to be assigned to that group as its rules official. He shot the low round of the event with a 4-under par 68 on a 6600 yard Fazio layout. He finished at even par for the championship, three strokes behind the winner Simon Lee.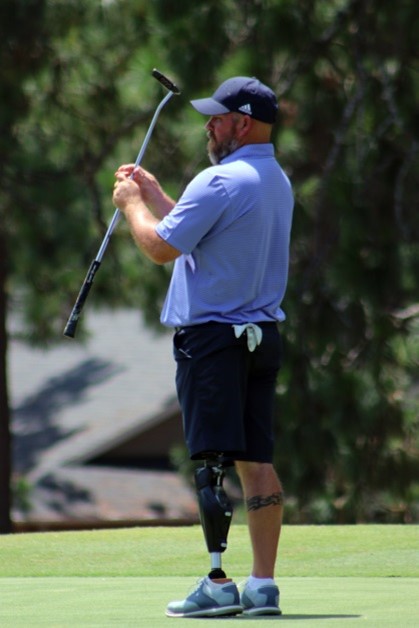 Simon Lee from Korea. Simon won the overall championship from the Intellectual Impairment category. Autism effects his ability to communicate, but not his golf game. I followed him during the final round and was impressed with his consistency. He did not need any rulings from me until the 18th hole when his drive found a rough area next to a cart path that was marked as part of the obstruction. I have given this or similar rulings hundreds of times, but this was the first time to do so with a player that doesn't speak English. Fortunately, his Korean caddy understood my instructions well enough that we finally got his ball back in play. From a precarious pine straw lie, Lee hit his approach to two-putt distance and then won the event in a two-hole aggregate playoff with a Swedish Intellectual Impairment player, Felix Norrman.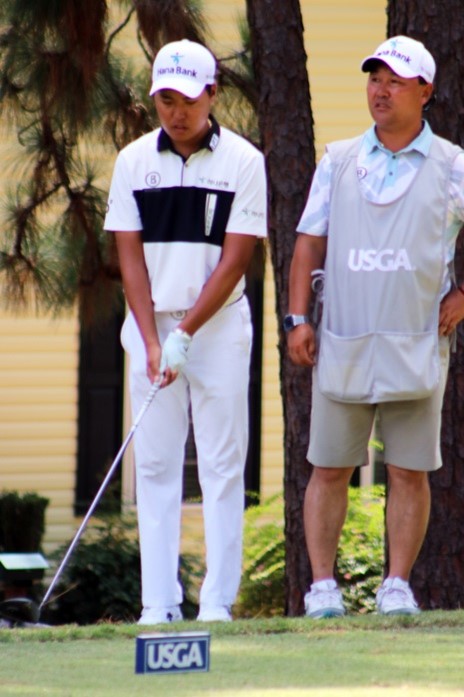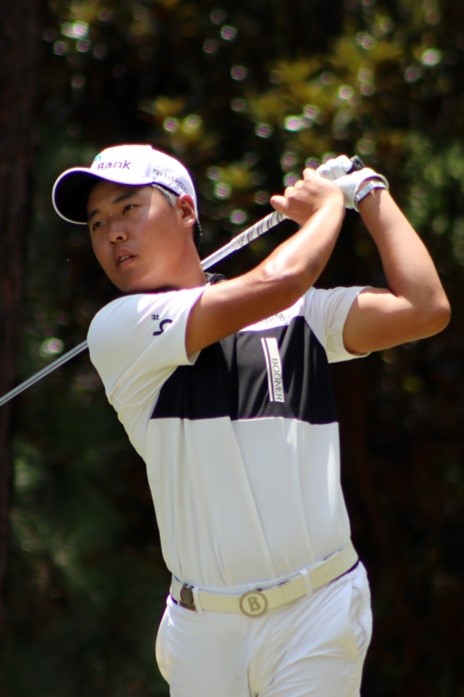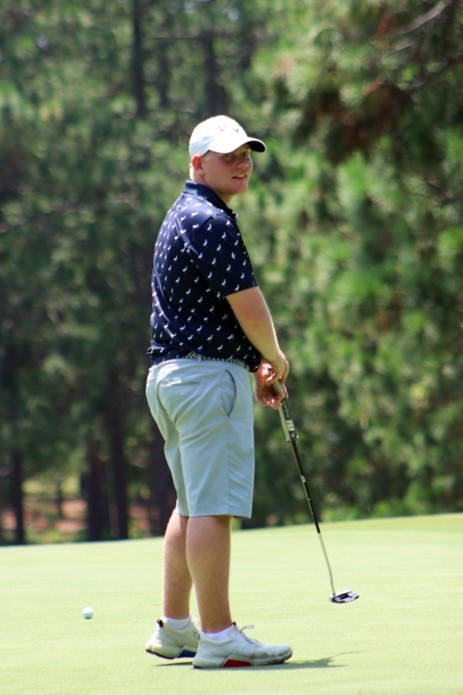 Grace Anne Braxton from Fredericksburg, Virginia. This remarkable woman was in my group for the first round. It was the first group of the day and she was designated as the player to make the opening shot of the new championship. She must have been a little nervous with all of the cameras and the large crowd. She missed the fairway and her ball found a penalty area. Her father later told me that it was probably "the first fairway she's missed in 14 years!" I believed it. Her swing was perfectly timed. She came within six inches of a hole-in-one and she made several putts in excess of 20 feet. She won the first place medal for her category. Turns out she has been ranked the Special Olympics #1 woman golfer in the world for many years and she was inducted in the Virginia Golf Hall of Fame earlier this year. I will never forget the "Woo-Hoos" she would yell out after a solid drive! (No pictures to share, but it's worth it to find her on YouTube!).
Jeremy Bittner from Moon Township, Pennsylvania. Jeremy was in the Leg Impairment category and made history. He made the first hole-in-one (and only one) in the USAOC! They awarded him the #4 hole flag, where his 187-yard tee shot was perfection. He donated the ball to Golf House for the museum! I met Jeremy at a small social event on the day he made the ace and he was still on an adrenalin high!
Ken Green from West Palm Beach, Florida. You may remember this PGA Tour winner and former Ryder Cupper. He was a "colorful" player (usually green!) in his youth. He lost his right leg below the knee in 2009 as a result of a tragic RV accident. I watched in amazement just how solidly Ken still hits a golf ball. He quickly became an ambassador for this championship and was very approachable to all. His book "Hunter of Hope" details his life, both on and off the course.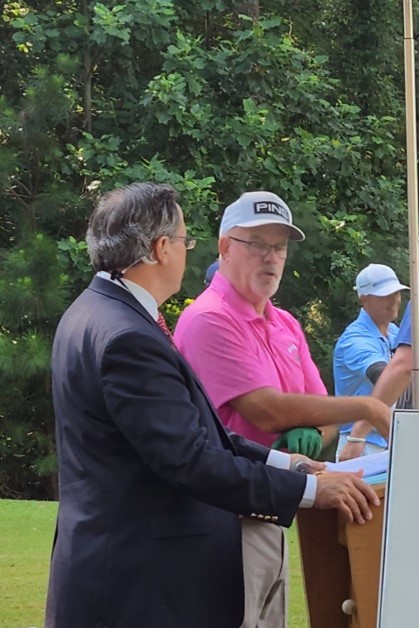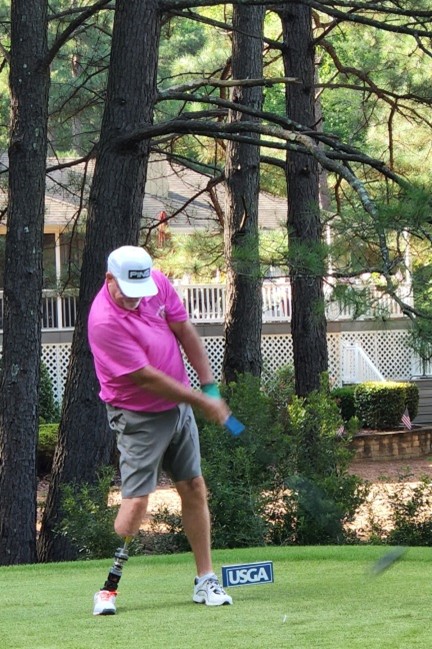 I was pleased to meet many other players from the adaptive golf community and watch several others. Each player has written a remarkable story. Stay tuned for chapter two in July 2023 when the 2nd US Adaptive Open Championship will return to Pinehurst #6. I also got to meet the Governor of North Carolina, Roy Cooper!