It is often hard for us as working individuals to find time to play golf at our home club throughout the year. However, despite the busyness of our lives, we always find time to sneak in a round here and there. For Gary Kipp, his life journey with golf started as a simple hobby but turned into something much greater – a national exploration of golf. Gary Kipp, a retired Navy Flight Officer and Commander from Wichita, Kansas, has played a round of golf in all 50 states in the United States of America.
Playing golf, let alone in all 50 states, was not a goal of his to start with – Gary grew up in Wichita in Hilltop, right across the street from LW Clapp Golf Course, and had a paper route that took a paper to LW Clapp every morning. He borrowed a set of golf clubs and started playing golf at the age of 14 in 1960. He recalls the greens fees at his home club were only 75 cents a day to play all day. Oh, how nice it would be to play for 75 cents today! Gary said, "72 holes a day was a piece of cake!"
As his love for the game grew over time, Gary began to play at the courses located in military bases across the country as he traveled. Six months after he graduated from Fort Hays State University, Gary was drafted into the Navy. He became a Naval Flight Officer flying in P3 Orions, whose primary mission was to hunt and track submarines. After completing 4 years active duty and 21 years in the Naval Air Reserve, he retired as a Commander (LtCol) in the Navy when he was 48. Throughout his journey in the Navy, he began to play more and more courses located within military bases, which got him thinking he could really complete his 50 states goal. Here are some of Gary's highlights of his golfing journey across the United States and many military bases:
Alaska: Gary remembers being on a 13-man flight there… he was the only passenger with golf clubs. Gary played at the Elmendorf Air Force Base, in Anchorage, AK. Gary said, "You see a lot of deer in Kansas, but in Alaska, I was able to see a few moose!"
In California, Gary not only played at the course located at the North Island Naval Air Station, but he also played famous courses such as Pebble Beach, Spyglass Hill, and others. Gary says, "this was his most memorable experience of all 50 states."
In Boston, Gary played a round and then rented a car, went to Maine to play golf, then drove to play more golf in New Hampshire, Vermont, New York, Massachusetts, Rhode Island's Newport Naval Station, and then back to Boston and he flew home. "One-week trips really helped knock out my goals", Gary said.
The last two stops in Gary's journey of golf in all 50 states were to Idaho and Montana. Gary flew to Spokane, WA, and rented a car and drove to Idaho. In Idaho, he played the Coeur d'Alene Island Green Course (pictured below, one of Gary's favorites).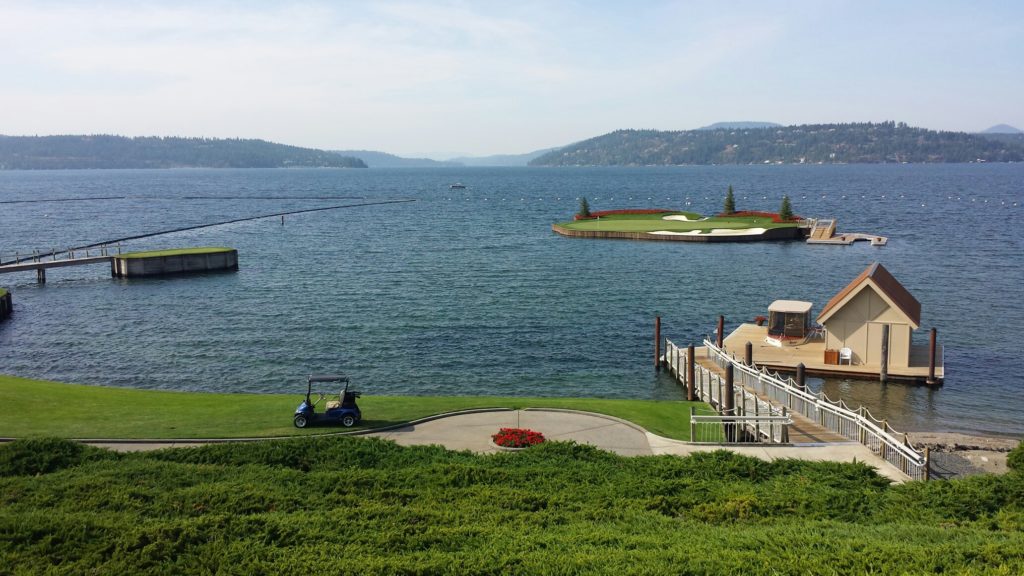 Once he finished playing in Idaho, he drove the next day to Anaconda, Montana, to the Old Works Golf Course for his final state (#50). The course was unique, as it was designed by Jack Nicklaus and is famous for its black bunkers and waste areas composed of crushed black slag leftover from copper mining in the area. Quite the unique course to end on!
The most difficult states to cross off were the western states because of how expansive it is. "I couldn't play them the same way as the northeastern states. It was almost an effort to knock one state off at a time in that area… Oregon was hard. I had to wait until I visited a cousin in Portland at Pumpkin Ridge (another of Gary's favorites). Luckily, I crossed off Washington when I played in Seattle while I was in the Navy Reserves."
Once the journey was over in Montana, Gary was elated that he finally completed his amazing goal, but he also realized he needed to find a new goal. "After I did it, I told my buddy, 'Rich, it's all over. I don't have anything else to look forward to now. Somebody just let all the air out of the hot air balloon.'"
Gary is still heavily involved in golf and other aspects of his community. For the past twenty years, Gary has made an impact in his community through the caddy program at Flint Hills and as a golf coach. In 1996, Gary went through a professional golf coaching seminar in Phoenix, Arizona, and became certified to teach golf. When he came back to Wichita, to McConnell AFB, he taught golf there for about 5 years, between 1997-2001. Once the unfortunate events of "9/11" struck our country, it became hard to get onto the base and then the golf course closed. Once that ended, his attention turned to the caddy program. In 1997, Flint Hills National opened and developed a caddy program. Caddies got to play free on Monday, so Gary started caddying there. After a few years, Gary became an instructor for the caddies at Flint Hills for 17 years, between 2001-2018.
Gary is still a busy man who is finding new goals to set – his most recent goal that he hit was shooting his age. Gary shot a round of 73 one month after completing his "50 states" goal. Gary has experienced a lot of amazing things throughout his life, but he will never forget his life journey of playing golf in all 50 states. Gary said, "I can't say that I liked every course, I played some just because I was traveling through there, but it was an unbelievable experience that I will never forget."
No matter the course, no matter the score, it is always a blessing to be able to play the beautiful game that is golf. Gary's story is a special one and should motivate us all to go out and make time for a round of golf – no matter which state it's in.
Story written by Nelson Searcy.