One Wichita man has played every 9-hole golf course in the state of Kansas. That's a total of 107 grass green courses.
Dakin Cramer is a former member of Flint Hills National Golf Club and a long-time member of the Kansas Golf Association. When Flint Hills was closed on Mondays or during the winter you could find him at nearby 9-hole courses in Wichita, there are more than 30 9-hole golf courses within 75 miles of Wichita. He reflected on when he first thought "maybe I should expand my playing to include more 9-hole courses nearby when Flint Hills is closed." His first course was Anthony Golf Club played in January of 2015.
Some of his buddies at Flint Hills National thought he was crazy, due to the excellent condition of their home club. Overtime, Dakin found a particular hole on every course that really spoke to him. Even the most mundane of courses have some type of design feature that made the course interesting. It was in his appreciation for these courses, that his dream to play every 9-hole course was born.
Dakin planned out his trips carefully, as his radius grew outside of 75 miles from Wichita it often included overnight stays. For example, he played 36 holes two days in a row in the Hays/Colby area.
He's learned a lot about the different communities he's played in. Dakin said "having a golf course is a lot like having a post office or school, once the town loses it, they lose their identity. Communities are proud of their courses, several have been built by the community and funded by them, too."
In my conversation with Dakin, he reflected on some of his favorite and most unique golf courses.
In Sharon Springs, the scorecard has a picture of a ball being wrapped up by a rattlesnake, it turns out, they're home to a tournament called the Rattle Snake Open.
One of his favorite courses is Prairie Dog Golf Course in Norton, KS
Other notable courses for Dakin included:
For Dakin, his goal hasn't changed over the years, but his expectations have. He now understands the importance of the 9-hole golf courses to each community he visits. He knows that they don't always make money, but the importance of the facility is the commitment the community has to it. Over the years, some properties have been bought, sold, remained privately owned, but for the town, it's remained a labor of love to keep the doors open and the grass mowed.
Dakin completed his goal of playing every 9-hole golf course in the state on September 10, 2019.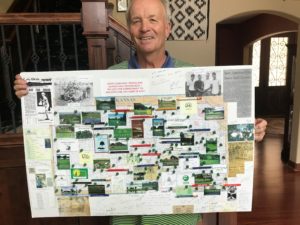 Do you have a story that should be shared with our golf community? Contact us: baile@kcgolf.org